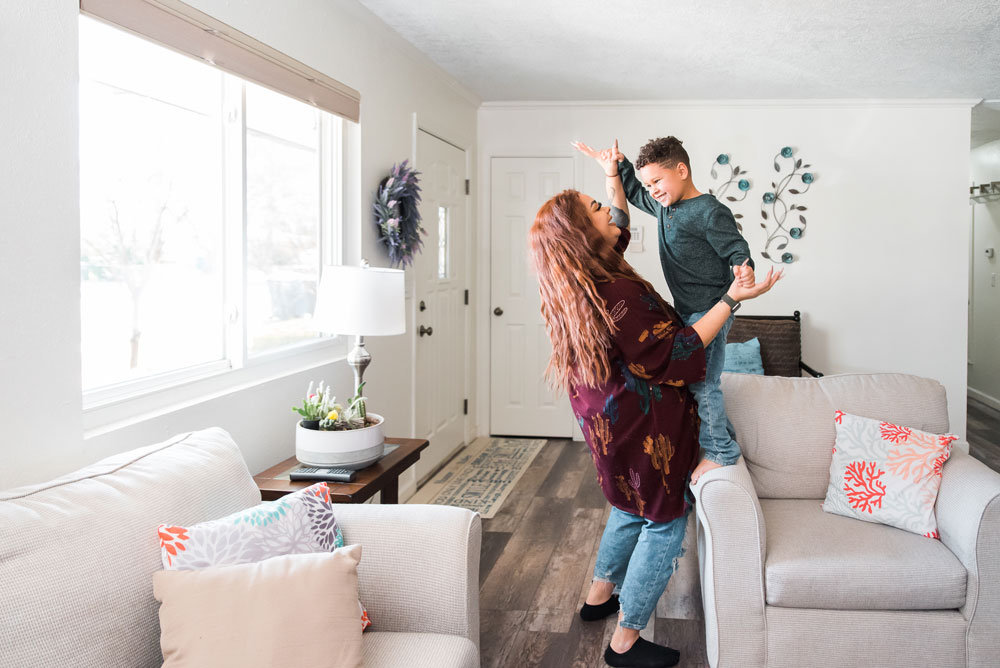 Updated on December 8, 2022
---
Libraries in New Mexico Offer Free Music and Movement Classes to Get You and Your Little One Up and Moving
New Mexicans know that our weather is the best. But even here, winter days can be chilly and gray. And on chilly gray days, it's easy to stay inside and do a lot of sitting around. If a young child lives in your house, you know that days cooped up inside can sometimes be less like a cozy Hallmark movie, and more like you're stuck at the Overlook Hotel. 
Little did we know, there is an unexpected hero here to save your sanity: your local library! Public libraries all over the state offer Music and Movement classes for young children. Schedules change frequently, so you can call or do a web search for your local library's offerings. Classes and events at public libraries are always free!
Music and movement are great ways for you and your little one to get your wiggles out, add some physical activity to your days, and ease your cabin fever. For some tips, we talked to Tracy Frie, who teaches the weekly Music and Movement class for 3- to 5-year-olds at the Roswell Public Library. 
Tracy said the Music and Movement classes in Roswell began partly because she noticed some young children getting restless during traditional storytime activities. It was hard for them to sit still when she was reading a book, but they became more engaged when she sang the book as a song or invited them to dance. 
"When I turn on the music and we start dancing, everyone gets involved," she said. 
But aren't libraries supposed to be quiet? Not for kids, according to Tracy. While certain parts of the library may be for adults trying to study, the children's area is for finding the joy in stories and songs (though, they do have a door they can close if the kids' singing gets too loud). 
In Tracy's classes, she introduces books that can be sung (Do Your Ears Hang Low? or Baby Beluga are good starter options). And don't worry, grownups, if you sing off-key. Your little one won't mind. Tracy also leads kids in songs she finds online that have simple, easy-to-learn words and motions. One favorite is One Little Finger, which teaches the names of body parts at a pace young kids can easily follow. 
Tracy also has a designated closing song. Her classes always end with the Party Freeze Dance Song, which is a crowd-pleasing bop with instructions for dancing in different ways and freezing on cue. It will definitely get stuck in your head, but it's sweet enough that maybe you won't mind. 
If you can't find a music and movement class that fits in your schedule, dancing is easy to do at home. The internet is full of children's songs (the songs linked above are from safe and reputable creators, who have other songs available), and you can create an instant family dance party from any device with an internet connection. 
Or, if you are a person who quickly tires of songs for preschoolers, remember that any kind of dance party is a great chance to get moving and spend quality time with your little one. You can check out our family playlist from a New Mexico dad, or dance to whatever moves you. If you like the music and are having fun, your little one will sense that and have fun, too. 
If your child isn't an enthusiastic dancer yet, just give it time. Tracy said she never pushes the kids in her classes to dance before they're ready. She said some start out just watching the other children, but if those same children come a few weeks in a row, they'll start getting up and dancing as they learn the familiar words and motions. 
"I don't rush them into it at all," she said. "Then a couple weeks later on certain songs they're up the entire time dancing around so, I just let them go at their own speed."
--- What Else Does Your Library Offer? 
Libraries offer a lot more than books (as if free books weren't awesome enough)! If you haven't checked out your local library, stop by or search the web for their event calendar. Library programs are always free, and libraries around New Mexico offer events for families on topics like LEGO building. Some even let you check out a specialty cake pan!
---
---
Did you find this article helpful?
Subscribe to Bright By Text to get more free tips and resources for your child's journey, right to your phone!