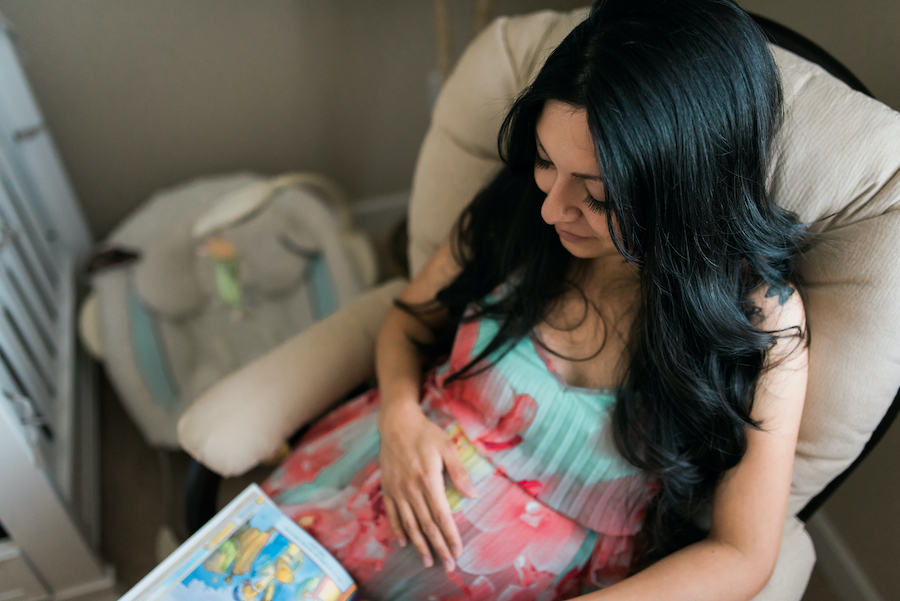 ---
You're Having a Baby! Now, What?
New Mexico has programs to support your healthy pregnancy and birth
---
So, you're going to have a baby. Maybe you're celebrating after years of trying to conceive, or maybe it came as a surprise. Maybe you're excited, but also kind of freaking out… Or mostly freaking out. Whatever you're feeling, you don't have to figure it out alone. New Mexico offers programs to help you with everything from health care to nutrition to learning about child development. So, step away from the Reddit thread about everything that could go wrong. We have tips for the best personalized support from fellow New Mexicans.
Getting Answers - Home Visiting
Say goodbye to the Google search, and hello to someone you can trust. Before you do anything else, consider signing up for a home visiting program in your area. Home visiting is free for everyone in New Mexico who's expecting a new baby, regardless of income, and it is easy to sign up. You can trust home visitors to help you get ready for your baby's arrival. Home visitors can help you cope with stress, provide information about baby's development, support your confidence as a parent, and provide resources for dads as well as moms. They're also good listeners, in case you want to talk about that pressure on your bladder with someone other than your grossed out friends. They are also trained to help you sign up for the other programs on this list, if you need them. Ready to find a program? You can learn more here and find a program near you, or you can call 1-800-691-9067 to talk to an expert who can help connect you. Or, if you just want to read more about home visiting, some more details are here.
Food Access - WIC
Your relationship with food is weird and ever-changing. During the next 40 weeks you will sometimes feel painfully, intensely hungry while also declaring that all food is disgusting. You will develop bizarre cravings, and you will weep over how much you miss undercooked eggs. But you should never have to worry about affording nutritious food. To make sure of that, New Mexico offers a nutrition program especially for pregnant women and women with new babies, infants, and children (called WIC). Through WIC, you can get help paying for healthy food, support with breastfeeding, and help connecting with other services you need. To learn more and to see if you're eligible (there's an income cap), visit this website for all the details.
Healthcare Access - Medicaid
Health experts recommend that pregnant people visit a doctor or midwife often during pregnancy, to make sure things are on track for a healthy, full-term birth. This type of health care is called prenatal care, and your health insurance can help you find a provider that's a good fit for you. If you don't have health insurance, it's a great time to sign up for Medicaid. In New Mexico, the income cap for pregnancy care is higher than the general cap. So, even if you didn't qualify for Medicaid before you were pregnant, you might now. And, New Mexico has recently extended Medicaid coverage to one year after birth. You can start today, by applying through the state portal, and you can learn more here. If the process feels overwhelming, get a home visitor! Home visitors are trained to guide families through the process of signing up for Medicaid if they need it. 
Health Advice - Families FIRST
If you qualify for Medicaid, you also qualify for Families FIRST. Families FIRST guides New Mexicans through pregnancy and birth. If you qualify for Medicaid and aren't signed up for Families FIRST just yet, the Medicaid folks can help you get enrolled. 
With Families FIRST, you'll visit with a nurse during each trimester of pregnancy. They'll share all kinds of supports and information to help you with your health during pregnancy. They can also help connect you with other things you might need, like stable housing or counseling. Plus, the nurse you work with will be just a phone call away if you have a question or are worried about your swollen ankles. If this sounds helpful, you can find more information here, or can call 1-877-842-4152 to get signed up. 
Child Care Assistance
For now, your body is providing 24/7 child care. But once your baby arrives, what's your child care plan? If you're planning to use child care outside your family, you may want to start searching now. Many child care centers have long waiting lists for infants, and you'll probably want to get on the list before your baby is even born. And when you're looking at the price of child care, remember that many New Mexico families qualify for help paying for child care. If you aren't sure how to search for care that works for you, you can read our guide, or call an expert at 1-800-691-9067. Leave a voicemail, and an expert will call you back in 24 hours or less!
Your pregnancy will probably be a mix of joy so intense it's almost painful (like feeling baby move inside you), and stuff happening to your pelvic floor that is just actually painful. Whatever it is for you, you don't have to do it alone. New Mexico is full of friendly guides who love babies and pregnant people, who are there to help you every weird, swollen step of the way.  
--- To learn more about home visiting, visit
this website
. Or, if you're ready to find a program in your area, you can start your
search here
. Remember that you can always call 800-691-9067 for
help from an expert
who can help you find the early childhood services you need.
---
Did you find this article helpful?
Subscribe to Bright By Text to get more free tips and resources for your child's journey, right to your phone!