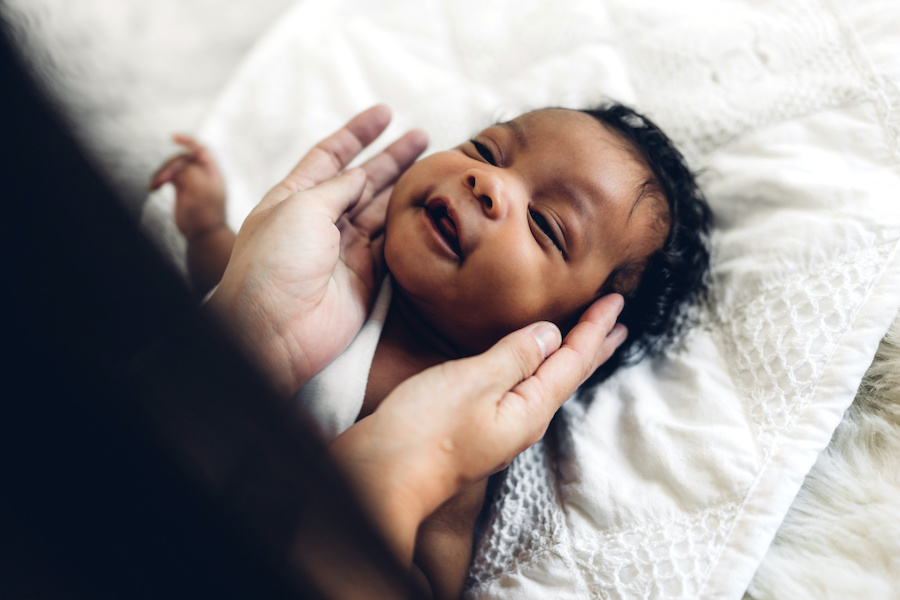 ---
New Mexico's Graduating Class of 2041
Babies born in 2023 are beginning their lives at a unique time. What's in store for them?
---
Babies need a lot of attention (right now, before they swallow that bug). But child-rearing is also about looking to the future: What will my baby be when they grow up? Will they live close by or far away? Will they love the same kinds of music I do? 
We can't answer any of that! But we can take you on a journey to some of your baby's future milestones and steps you can take to prepare them for success.
---
2026: Early PreK 
It's 2026. Your soft, tiny baby is a three-year-old now. On the one hand, they mostly sleep through the night these days, which is really great. On the other hand, they now sob uncontrollably if their favorite pillowcase is in the wash. It's a mixed bag, but you are excited to watch them grow from a toddler into a preschooler. A PreK program can support that growth. At age three, New Mexico offers Early PreK programs throughout the state. These programs are free to families, and are designed to help kids build the social and academic skills they need for success in kindergarten and beyond. PreK is also available for four-year-olds. Learn more or search for a PreK program here. 
2041: High school graduation
It's 2041, and your baby now finds you extremely embarrassing. They are planning their adult life, and you are outwardly supportive while finding time most days to cry in secret. Even though this all sounds far in the future, it's not too early to start saving for college or other career training. New Mexico offers a special college savings plan for families called The Education Plan. It's a type of account called a 529 Plan, and it's designed to help families save for college. When you put money in a 529, you save on your taxes and the money is invested to help it grow. One study has found that having some college savings—even a small amount—makes children four times more likely to graduate from college than children with no savings at all. 
2058: Can run for president
OK, not everyone's baby will run for president. But you can help prepare them to follow their dreams, whatever they are. By speaking to your baby, reading to them, and sharing other words and stories with them, you can help set them on a path toward life skills and school readiness. Not sure where to start? You don't have to do it alone! New Mexico offers free home visiting to families with or expecting new babies. A trained home visitor will visit your home (in person or virtually, as COVID allows) and help support you. They will provide tips about your baby's development, connect you with services, and listen to your experience without judgement. Learn more about home visiting here. 
2088: Retirement
They will always be your baby, but come 2088 they'll be getting senior discounts at all the local museums. With some planning and good luck, your aged kiddo will enter retirement still healthy enough to enjoy it. And science shows that the path to health is set early in life, through things like making sure your baby gets their regular well-child checkups. Pediatricians recommend that babies get well-child checks on a regular schedule during the early years. At well-child checks, your pediatrician will talk with you about your child's developmental milestones, and make sure they are up-to-date on vaccinations that protect them from disease. A lot of families fell behind on checkups during COVID lockdowns, and you can call your pediatrician to see if it's time to come in. 
Today, your baby needs you for food, safety, and maybe even to lift the weight of their head. Soon, they'll let you know they don't need your help anymore ("I do it! No help!"). And then one day (probably in 2028), they'll walk into their first day of kindergarten and leave you in a puddle of your own tears. New Mexico has help for you at every step of your early childhood journey, so they can be ready on that first day of kindergarten, even though you obviously won't be.
---
Did you find this article helpful?
Subscribe to Bright By Text to get more free tips and resources for your child's journey, right to your phone!