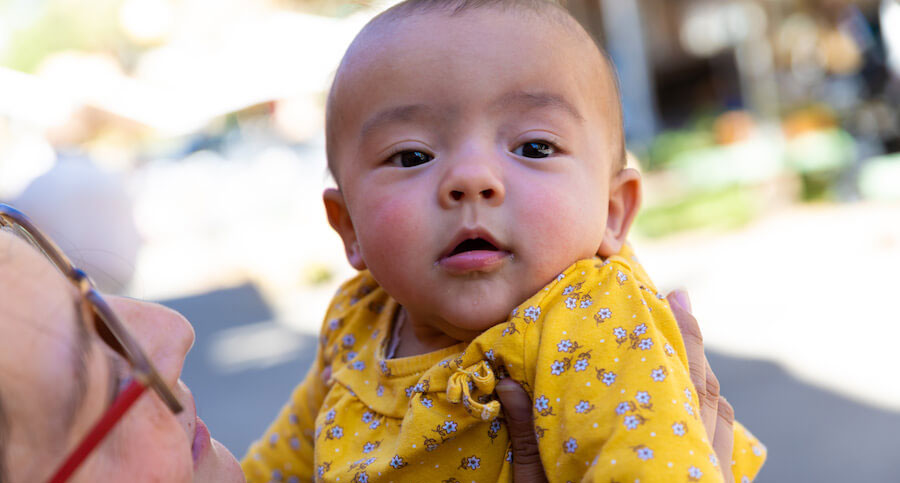 Updated on December 23, 2021
---
5 Fun Ways to Help Your Child Thrive During COVID-19 from a New Mexico Mom
The past year has been hard, and it has changed a lot about our moments together, especially as families. While we've been staying at home due to COVID-19, we've had to find new ways to go about our days while also helping our children grow. Fortunately, supporting our little ones' growth while at home can be fun! 
Over the last months we've shared seven playful ways (proven to work through lots of brain research and early childhood education best practices) for you to help your children grow. But we wondered: how do these caregiving moves fit into a real person's day (especially in a global pandemic)? 
We asked a New Mexico mom about the five caregiving moves she has used the most during the COVID-19 pandemic. Hailey Heinz is a mom of two, and (we think this part is cool) she is also an early childhood researcher at the University of New Mexico who has been working from home over the last year while raising two young children. Check out her list below for some tips—and most importantly, give yourself credit for all the special moments you're already creating for the young children in your life!
I love showtunes and Disney songs. If a story's hero works through her problems by belting out a powerful chorus, it's probably my kind of thing. This past year especially, there have been plenty of times when I have needed to find my power when it comes to parenting. One of my best tricks is to sing my frustrations. If I'm serving up dinner and both my kids are asking me for different things and talking over each other, I can start to get agitated. To change my mood, I'll dig deep for my inner Elsa and sing something like, "
I can only heeeeear, one child at a tiiiiiime, and my brain is just too full to plate the peas and make a rhyyyyyyme.
"
As the words come out my lips as song, they become more manageable for me, and it also models for my kids that all kinds of emotions are part of life–good and bad—and that it's safe to communicate our feelings and needs to each other. Besides helping me manage my own emotions, singing introduces words and rhymes to our conversation, helping my kids make connections to words in their environments and turning what could have been a stressful interaction into a fun opportunity to share words and song together.
2. Visit a Little Free Library
The COVID-19 pandemic has given us new appreciation for taking walks in our neighborhood. With fewer places open for family activities, one of our go-to walking destinations has been the Little Free Library cabinet in our neighborhood. The take-a-book, leave-a-book system is a great way to say goodbye to books we are done with, and find new books to explore. I love that we never know what we'll find. Sometimes we find classics (we once found Cloudy with a Chance of Meatballs and I about jumped out of my skin in excitement).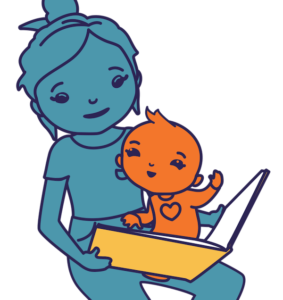 But more often we find books we probably wouldn't have discovered otherwise. Our most recent find, Pelican's Catch, is a simple story about a young pelican learning how to fish. The story is set on and around the ocean, and sharing it with my New Mexican kids makes their world a little bigger and lets me share the smell of salt and the sound of gulls with them. This feels especially precious this year when physical travel was limited for most of us. The act of spending moments together reading also creates space for quality time, and helps their growing brains make new connections between my voice, the words on the page, and the pictures in the book. 
3. Grow Your Own Conversation Buddy
As an extrovert suddenly practicing social distancing, talking with my kids this past year has been as good for me as it is for them. There are studies that show how give-and-take conversations help children build strong communication and social skills. Even when they are too young to form words yet, they are always learning, and can understand so much!
I also have my own motives. I can talk to them about things that interest me (and don't interest my partner) like the extended Harry Potter universe, or the movies nominated for the Oscars this year. My kids don't always talk back, but over time these conversations start to build interests we share. My oldest kid closely followed the Oscar race for best animated feature this year, and had his first experience being let down by the Academy ("Trolls World Tour wasn't nominated for anything??"). Talking about culture or your interests with kids of all ages is fun and joyful, as this dad showed us all:
COVID-19 has forced many of us to cut back on physical touch. With fewer hugs, handshakes, or high fives, the snuggles we share with the people in our households have become even more precious. Snuggles and hugs help young children develop secure bonds with their caregivers (us!), and those secure bonds help lay the foundation for self-confidence and empathy later in life. Snuggles can be especially powerful during times of stress or uncertainty (read: all of the past year) and your warm embrace helps your child feel safe and taken care of. 
Lucky for us grownups, snuggling with babies and young children is the best. For many of us, nuzzling the warmth and softness of a baby's head connects us to a deep well of love in ourselves—even during a 2 a.m. feeding. And sharing snuggly giggles with a toddler is the perfect way to spend a break between Zoom meetings, reconnecting with the physical presence of another person. One of the great pains of the COVID-19 pandemic for many grandparents and other family members has been physical separation from the young children in their lives. Just as we have grieved for the loss of that touch, though, we can celebrate as it becomes possible again.
Dance parties have become a staple in our household during the COVID-19 pandemic. With fewer options for getting out of the house for exercise, a dance party is an easy way for us to get moving, connect with each other, and find some joy in a day spent together around the house. A dance party also lets us enjoy music we all love (such as the Trolls World Tour soundtrack—totally snubbed in the Best Original Song category) and introduce our children to music we love. It's never too early to start making sure they'll share my love of showtunes.
Curious to learn more about the other playful ways you can build your little one's brain?
---
Did you find this article helpful?
Subscribe to Bright By Text to get more free tips and resources for your child's journey, right to your phone!